Complete Story

09/03/2020
MHOA Spotlight – Thomas Carbone
By Abby Faria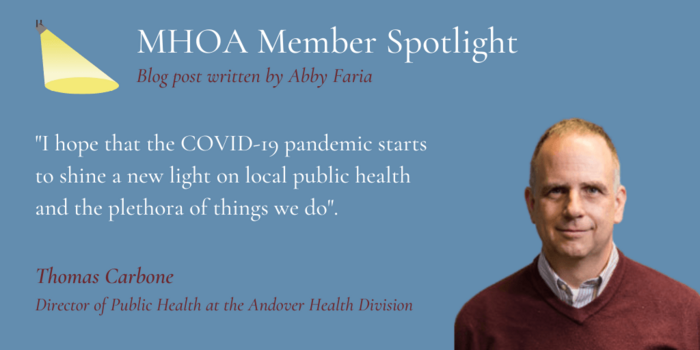 By Abby Faria
Over the past several months, the COVID-19 pandemic has fundamentally changed MHOA member (and Past President) Thomas Carbone's already-busy role as the Andover Health Division's Director of Public Health. I was fortunate to have a conversation with the Director as he reflected on his career in public health, the importance of local public health, as well as being an MHOA member.
Director Carbone has been studying and working in public health since college. He has a particular interest in environmental health. Outside of public health, Dir. Carbone is involved in his church and helps with its youth group and religious education. He enjoys reading, and was happy to get the opportunity to take a break and read on the beach this past weekend.
As the Director of Public Health, it is Mr. Carbone's responsibility to oversee health education programs, and engage other community health efforts, such as safety protocols. Unfortunately, many projects were put on hold as efforts to slow the spread of COVID-19 in the Andover community took priority. Dir. Carbone and his colleagues have been clocking in long hours and weekends in their efforts to support their community's response to the pandemic.
Now that the rate of the COVID-19 cases has decreased in his community, Dir. Carbone says the division is beginning to address many of the projects that they had put on hold for months. Some of these include development projects, septic systems, and public pool upgrades. There are many other initiatives that have had to be re-proposed, and some that continue to be postponed, but Dir. Carbone is sure that "it'll all come back" when the time is right.
The Andover Division of Health has had its share of difficulties pertaining to the pandemic throughout the past several months. Dir. Carbone says that although many students offered assistance to his department, it has been hard to place them because there was no pandemic response plan in place with roles to be filled. Dir. Carbone says it takes "a lot of time and energy to get those people up and running. He emphasizes that "you need a good base ready," because if you don't "then you can't expand." He explains that unfortunately, many health departments across the country didn't have the infrastructure in place to respond to this pandemic quickly. Dir. Carbone is grateful that his community had access to many workers who were enthusiastic to help with the response, noting one nurse who even came out of retirement to help. However, now many of their initial response team members can no longer help, due to returning to school or their original jobs.
Dir. Carbone went to college at the University of Massachusetts at Amherst where he started out as a microbiology major. Throughout his first few semesters, he was having trouble with the chemistry classes, which drove him towards working in other science-related fields. He says that the School of Public Health had some classes that "really interested me on the environmental health side," and he eventually decided to pursue a public health degree instead.
The Director noted that there are many different types of career positions one can take with a Masters degree in Public Health, but he chose community health for a number of reasons. He enjoys forming relationships with local businesses, noting that his father was a small business owner. He also liked the idea of working with the public directly through a local board of health (LBOH). Dir. Carbone explains he is in a unique position where his division can work directly with health codes and also assist clients with adhering to them. He says that one of his favorite parts of his job is that he gets to work with "some incredibly talented and caring" colleagues, as well as local residents who, for the most part, appreciate the division's efforts.
Dir. Carbone is enthusiastic about MHOA's role in local public health across the state. He believes that the organization is best-suited to help supply the voice for local public health, as well as offer training to local health workers because science changes frequently, therefore professionals need to be trained frequently. Dir. Carbone said that he was happy that the MHOA saw the urgent need for contact tracing programs and took action quickly.
Through MHOA, Dir. Carbone has received regular training and met many other health officers. He reflected on the early days of the Internet when MHOA members had useful discussion boards where they could ask questions in forums to see how other health officers would address them. Dir. Carbone stated that "MHOA was always a great coordinator… and I think the organization continues to do that."
Looking towards the future, the Director hopes that the COVID-19 pandemic "starts to shine a new light on local public health… and the plethora of things we do." As examples, he lists complaint management, construction reviews, and routine business inspections as a few projects that the board does that many people aren't usually aware of. He hopes that the pandemic highlights how the health division can make improvements within itself, and helps the government understand how to support LBOHs better. Dir. Carbone looks forward to continuing to use his role as Director and an MHOA member to help his community stay safe throughout this pandemic.
---