Complete Story

09/03/2020
MHOA Spotlight – Erin Egan
By Rana Rahmat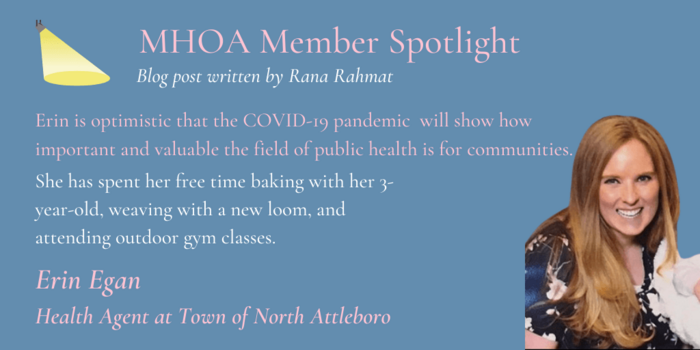 By Rana Rahmat
Welcome to the new normal of life. The last four months of the pandemic have made 2020 feel like an eternity and it is easy to think about all the things that have been cancelled or postponed and despair. Even several phases into the reopening, life is so different it seems like we can never go back. Schools are engaged in online learning, people are doing their best to work remotely from home, and many of us have spent a lot of time online shopping. We are relying on technology more than ever, and it seems like every person has become an island, losing those connections while in isolation that make our society unique. But even now, when the light at the end of the tunnel appears so far away, there are those who use their zeal for public health to forge new connections and have used the pandemic as an opportunity to continue their passions.
One such individual dedicated to public health advocacy is Erin Egan, a Health Agent in North Attleboro. Erin earned her Masters of Public Health at Northeastern University and spent her practicum hours shadowing a health agent. There she found herself enjoying her work with local boards of health while giving herself a taste of what would become her future life's work. Since I had never heard of this position before, I wondered, what exactly does it mean to be a health agent? As Erin described it, health agents work under the health director in their communities working on a series of health-related topics (or something like that). Within this scope, Erin focuses on matters of environmental health which include inspections for septic systems, pools, food, and housing. One of her original passions in the field was food safety inspection and this passion has become one of her favorite aspects of the job. These inspections require "a lot of public health education", making sure people not only understand which food safety protocols are in place but also why they need to be in place.
I asked Erin how her day to day work life had changed since the beginning of the COVID-19 pandemic and the answer wasn't all that surprising: she continues going into the office a few days a week but tries to accomplish as much as possible while working remotely, particularly resolving matters over the phone. For now, her in-person work involves limiting inspection times to just a few minutes, performing the necessary tasks for routine pool openings, and assisting businesses with COVID-19 guidelines. One new aspect of the job that is routine now is fielding complaints about people not wearing their masks, social distancing, and for businesses that have opened too soon.
So what has it been like to be a part of the MHOA? She has met a lot of great people with knowledge and experience that she can go to when she has questions or problems that can't be figured out individually. The MHOA is particularly helpful in these situations since many of the members are involved in local boards of health and have to deal with the similar problems. The organization is also beneficial since it offers trainings for members, particularly at their annual meeting. While some MHOA events have had to be cancelled due to the pandemic, others have switched to the virtual format. These virtual trainings are great for those like Erin who can't spend hours commuting. They also open up the possibility of holding other types of virtual trainings such as those for food establishments which are not possible to do in-person under the current circumstances.
It is heartening that even in the darkest times of the pandemic we can still find positivity and hope. For Erin, one such silver lining is that she has been able to connect and build relationships with superiors that she did not have prior to the pandemic. She, along with many of us in the public health field, is optimistic that this situation will show how important and valuable the field of public health is for the communities that it serves.
In her free time and since the pandemic has made most of us house-bound, Erin enjoys baking with her 3-year-old, has recently bought a loom, and since reopening has initiated, outdoor gym classes.
The lesson we can all learn from Erin and her experiences these past few months is that the new normal doesn't have to be all that bad. While our day to day lives may be different, we may end up with new paths to explore and opportunities that we were not available to us in our pre-pandemic worlds.
---