Complete Story

02/19/2021
MHOA Spotlight – Jeffrey Stephens
By Abby Faria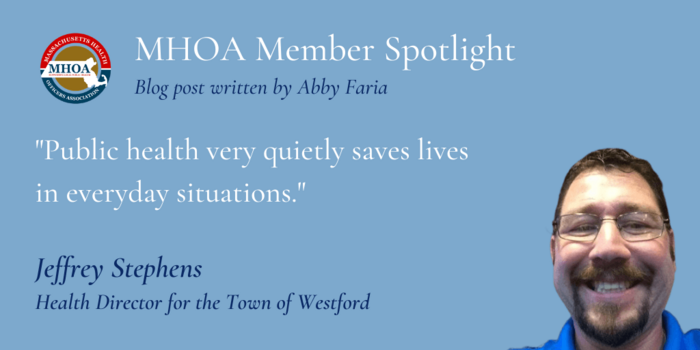 By Abby Faria
Jeff Stephens currently serves as the Health Director for the Westford Health Department. While Dir. Stephens has extensive experience in local public health spanning back many years in both Westford and Fitchburg, no event altered the duties of his career as much as the onset of the COVID-19 pandemic. Dir. Stephens explains how his role description typically includes ensuring "the smooth operation of all my department's functions," including, but not limited to emergency preparedness, and environmental, clinical, and volunteer support. "Through the pandemic…we have worked very hard to keep those functions in place for residents. What has changed is the addition of keeping residents informed of how to protect themselves, how to take care of themselves, issuing local regulations & interpreting state guidance when needed." He describes how his role expanded to include a further set of functions with the recent rollout of COVID-19 vaccinations – including education and information on vaccines, local vaccination clinic locations, and side effects. Dir. Stephens says that the pandemic has "certainly slowed down some initiatives because the resources do get spread thinner." He clarifies that although their "efforts to push forward have slowed, they're certainly not on the backburner." Right now, "nothing's gone away, but the priority does shift."
After graduating from college, Dir. Stephens did not initially anticipate that he would end up working in public health. When he received his undergraduate degree in Environmental Science, he was looking to pursue a career in that field. He worked for a few years at a survey company, where he learned about the scope of local health departments because they spent a lot of time designing septic systems. Around 2001, Dir. Stephens took a health inspector opportunity that opened up in Fitchburg, MA. "I enjoyed the role being in public service because my family had been in public service for a long time," he says. He explains that many of his family members worked in education for most of their lives, and although he didn't want to necessarily be a teacher, he "did like the ability to assist and help people with challenges they may have within public health."
Apart from the service aspect of the job, Dir. Stephens enjoys many facets of the world of public health. Reflecting on some of the things he appreciates about public health is that "it's a very fast-paced field, the landscape continually changes, and most importantly, public health has a direct effect on people's health and safety. We can go to bed at night knowing we're keeping food, housing, and environmental situations safe, as well as protecting the public from communicable disease through public health interventions. Public health very quietly saves lives in everyday situations." He gives an example of a severe property damage such as burst pipes, explaining how the police and fire departments may be the ones to respond to the situation immediately, but the health department will stay involved for sometimes weeks at a time making sure that the residents have resources or support to get back to normal. "We stay in touch until the property is back in compliance with state and local regulations…Our response to chronic situations really supports community needs."
Before the COVID-19 pandemic, a lot of emergency preparedness focused on disasters, but Dir. Stephens believes that it is important to include pandemic preparedness as well "I think a more regional approach [to local health], can be beneficial at times. Regional examples include vaccine clinics for first responders.
Dir. Stephens says "MHOA is an outstanding resource composed of many dedicated professionals that have collectively addressed a variety of different situations. Being able to lean on a body of professionals such as the MHOA members has been an asset for many of us in Public Health. Without professional groups like MHOA, it would be more challenging for Local Health Departments to gain advice and learn from others. This connection ties us together." On being a MHOA member, he says "MHOA has helped by being a key resource to getting information from the state as a professional organization, which can be disseminated down to the membership." He also emphasizes how MHOA has been very successful at "getting the ears of the state" for things like funding, and that "just making the connections is worthwhile." He believes that "MHOA is very adept at evolving with the times," and that the organization will continue to be a strong ally to local public health.
Outside of his career, Dir. Stephens loves sports. He often plays golf and hockey himself, and enjoys coaching youth sports, especially hockey. As the pandemic continues, Dir. Stephens says "My hope is that everyone sees and understands the importance of what public health does… and people will have a greater appreciation for the amount of work that goes into keeping people safe." He emphasizes that they will still have to plan and prepare for the possibility of the next pandemic, and he hopes that people will understand and appreciate the work done by public health professionals.
---