Complete Story

09/02/2021
MHOA Member Spotlight – Ivan Kwagala
By Mingrui Wei
By Yashashree Marne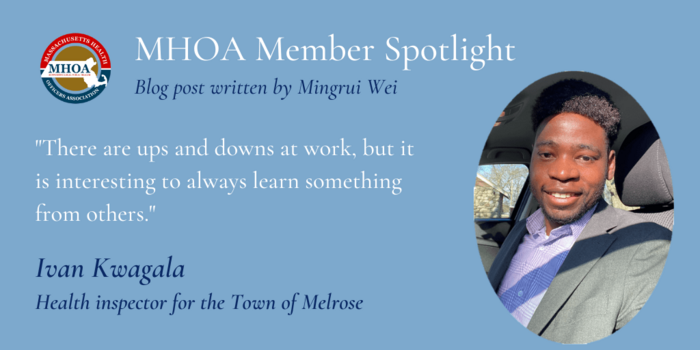 Ivan Kwagala currently serves as a health inspector at the Melrose Health Department and is a graduate student enrolled in the Master of Public Health program at the Massachusetts College of Pharmacy and Health Sciences, expecting to graduate in December 2021. As he is nearing the end of the program, Ivan is working on finishing up his practicum experience — the designing of two communication products, one for risk communication, and the other for regular communication. The risk communication template was inspired by the COVID-19 pandemic since timely and effective communication of risk during the COVID pandemic enables adequate information to be delivered to the public. The development of the regular communication template will help to deliver frequently asked information to residents and direct them to the appropriate people, which is expected to reduce the amount of time spent answering and redirecting phone calls.
Ivan has won the MHOA Amy Naparstek Memorial Scholarship this year, which celebrates his continuing excellent work in public health. Although he just joined MHOA as a member last year, he enjoys his experience with MHOA and is excited to continue the journey. He greatly appreciates the learning opportunity provided by MHOA through webinars and related materials on their website, stating "It would be a good opportunity for me to learn about something I didn't know before and then I can incorporate that knowledge or skills into my daily work when somebody comes up with a related question." He also noted that the materials and tools on the website make it easier to conduct inspections for a new kind of facility, since the online forms are more accessible. Although it is easy to connect with MHOA through calls and emails for any concerns or questions, Ivan has suggested that in the future, MHOA could possibly develop a forum for public health officials to communicate more easily about the challenges they have encountered during work, so that people experiencing the same situation could bring up useful advice.
Ivan's daily responsibilities as a health inspector include restaurant inspection of food safety, investigation of housing-related complaints, and other regular inspection works. After the COVID pandemic hit hard in Massachusetts, the priority of his job responsibilities shifted to COVID-related responses and communications, like helping restaurants with space modification to ensure 6 feet of distance and developing plans of mask-wearing mandates, along with other safety guidelines. His daily work involved interacting with the general public to solve problems, especially with senior citizens, instead of just dealing with business-related operators, which significantly increased his work load. MHOA acted as an important information source for the Melrose Health Department during the COVID response process, as they have held multiple webinars to inform the public health officials of updates from the governor's office. There were also training sessions for the staff to equip themselves with the required skills to cope with the pandemic, such as contact tracing, communication, and how to protect yourself while you are performing inspections. When speaking about the webinars, Ivan stated, "I think they were very informative, because it gives you a sense of what is coming and what is going on."
Having served in public health for 4 years after graduating with a Bachelor of Public Health, Ivan enjoys his work in the field of public health, especially the opportunity to communicate with the community, get educated constantly, and conduct investigations. As a public servant for the community, Ivan gets a lot of chances to communicate with the public when doing inspections or addressing issues that affect the community, which provides the opportunity to learn something new every time. Ivan enjoys the chance to educate himself by conducting research, browsing documents, and asking other professionals for insight before he does his public outreach.
Ivan's passion for public health and learning has inspired him to continue school, but it is not always easy to work full-time simultaneously. "There is no best way to manage two cross paths of study and work," said Ivan about his current experience, "You cannot prioritize which one is more important and just do the best you can to balance between them." Except for time conflicts, this unique experience also comes with benefits, as previous work experience makes it easier to understand the knowledge learned at school and provides insights on assignments. It also has the opposite effect, as the new skills acquired from school can be applied directly into daily work.
Ivan works in local health departments and enjoys his work at the local level because the local department gives him a chance to "start somewhere and grow as a professional". Reflecting on his work, he said "There are ups and downs, but it is interesting to always learn something from others." He looks forward to getting more training to be qualified as a director of the local health department or to serve at the state level in the future.
With the mask mandate being lifted for vaccinated people, the city of Melrose is slowly coming back to normal with business and life, and the workload is expected to increase for general services. As Ivan is near the completion of the public health program, he can't wait to utilize his expertise and his interest in communication and collaboration to develop projects for the health department and to help enforce appropriate and timely risk communication with different stakeholders. He hopes that in the future there will be more training opportunities from MHOA regarding housing safety, grant writing, or general introduction level training for public health newcomers to quickly adjust in the field and equip themself with required skills.
---