10/24/2020
MHOA Spotlight – Aimee Petrosky
By Abby Faria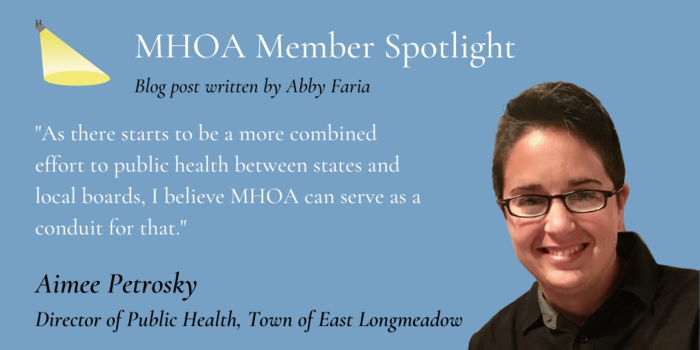 By Abby Faria
East Longmeadow Health Department Director and MHOA member Aimee Petrosky has been particularly busy helping with COVID-19 containment efforts in her community. I spoke on the phone with her as she discussed her experiences working through the current pandemic and other public health initiatives throughout her career.
Director Petrosky said she "really fell into public health" throughout her education, which started on her early path towards social work. She studied sociology and government at Smith College, then began her Master's degree in Social Work at Smith College. She is currently working on her Master's degree in Public Health at Bay Path University. She eventually started to realize she could only create solutions person by person and began to desire a career in which her work could have more wide-reaching effects. Dir. Petrosky still values and appreciates her education in social work because it helped her develop skills she uses in public health, including de-escalation and effective communication techniques.
As the Director of East Longmeadow, much of her work includes supervision, grant-writing, prevention, education, outreach, and policy development. In addition, the department had been working with Health Resources in Action on a health needs assessment to help direct long term goals for her community right before the pandemic began. The project has since been delayed. Another up-and-coming project that was delayed was a collaboration between the towns of East Longmeadow and Longmeadow which would have combined their health services departments together. Alone, "both departments have services that are missing," she explains, but this collaboration would have helped both communities have access to a greater amount of resources and opportunities to provide our residents with greater public health service. Ultimately, Dir. Petrosky says that the need for this collaboration "helps validate the reason why increasing our workforce is necessary."
There have also been many other changes that have occurred in Director Petrosky's office since the onset of COVID-19. For instance, there has been a significant increase in the number of incoming calls and complaints. Petrosky explained that although the number of calls have increased, their staffing numbers have not, which makes it difficult to address them all as timely as we would like, and delays other prevention efforts that normally take place.
"It's all reactionary," the Director said as she explained how the department organizes its efforts against COVID-19. She explained how the response to COVID-19 is reaction-based and could have looked very different if there was adequate infrastructure in place beforehand.
Director expressed hope that this pandemic will help people understand why it is so important to fund public health departments. She explained that often it is more difficult to advocate for funding public health because it can be hard to justify spending money towards prevention of things people can't see yet. She expresses that "it's the lack of forward-thinking" that cause public health crises, including the COVID-19 pandemic, to develop into such large and overwhelming problems. As we have seen with the pandemic, this short-sightedness leaves us in the position of having to choose between protecting public health or protecting the economy, which is difficult because "if we remove either one of those pieces, things start to fall apart."
One of the Director's favorite parts of the job is getting to work with residents and businesses in her own community. "Community members want to do the right thing, they just want to know what it is" Dir. Petrosky said, explaining how she believes East Longmeadow's education and vaccination events go a long way in helping people understand what public health actions people can take on their own.
Dir. Petrosky appreciates "there is the ability to touch on all major facets of prevention" working in local public health. With local public health a person can work on environmental health issues, education and outreach programs, strategic planning and development, just to name a few.
"Local public health does it all," Dir. Petrosky emphasizes, as she discusses how impactful MHOA has been throughout her career. She is grateful for MHOA as an educational body that brings very topical trainings to the workforce and ultimately does "their best to keep us up-to-date on emerging trends and codes." She noted that one of the lesser-known objectives of MHOA is advocacy, again referring to how public health is not well advocated-for and MHOA is trying to make public health more of a priority that "we desperately need." Dir. Petrosky appreciates how MHOA leaders do a lot of work advocating for programming and policymaking for people on the ground. "As there starts to be a more combined effort to public health between states and local boards, I believe MHOA can serve as a conduit for that," she added.
Please note that the views expressed in this story are not necessarily the views or opinions of the Town of East Longmeadow.