10/26/2021
MHOA Topic Spotlight – MHOA Guide for Local Public Health in Massachusetts
By Yashashree Marne
By Yashashree Marne
For many entering the field of local public health, the transition can be overwhelming. To alleviate provisional hardships and ensure success, the Massachusetts Health Officers Association (MHOA), along with several associated partners, have developed an "Orientation and Resource Guide for Local Public Health Officials in Massachusetts". Listening to local boards of health from around the state, the MHOA spent months collating and defining all pertinent and relevant resources that any public health professional would need and combined all data into one website that anyone can visit. MHOA Executive Director Dawn Sibor has stated that the guide provides a comprehensive set of current resources about public health in Massachusetts. The Guide provides links to resources on a wide range of topic areas in local health. This guide can also help officials begin their journey towards developing their own programs.
The Guide identifies subject/topic areas that are critical for local public health. It consists of twenty chapters describing different parts of the Massachusetts Public health system, including but not limited to "Public Health Laws and Statutes", "Fiscal Management and Budgeting", and "Public Health Data and Informatics". MHOA officials have made the navigation easy by creating a table of contents. Each chapter is prefaced with an introduction and separated into subtopic areas with all of the necessary resources a public health professional would need attached. For example, one of the chapters in the guide is "Emergency Preparedness", and topic areas in this section include – "Public Health Emergency Preparedness", "Medical Reserve Corps", and "Emergency Management" with each topic area hosting a list of resources and/or training opportunities as shown below: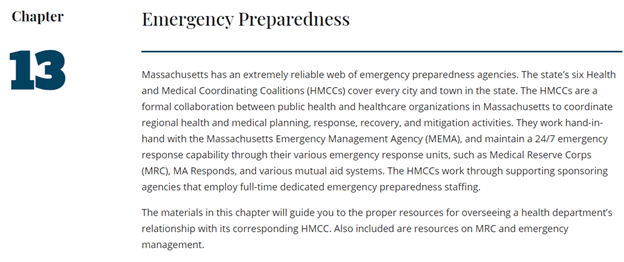 In late July, I had the pleasure of attending a webinar that formally introduced the Guide to the public. It was amazing to note the diverse career backgrounds of each of the panelists. Panelists at the webinar came to local health from emergency planning, public health nursing, and community health. Tim McDonald, Director of Health and Human Services for the Town of Needham and one of the panelists, explained that in local public health there is a sheer spectrum of topics that need to be addressed constantly. Local public health requires knowledge of all the fields of public health, and as one of the panelists put forth, "You do not get tunneled into one such thing". As such, local public health professionals need to know about and work in many fields, and this Guide fills in any gaps in knowledge that a new professional may have starting out.
The Guide is self-directed and can be used by people in different roles in public health at any time. The MHOA plans to continuously update this Guide twice yearly and have it available on their website and the Boston University School of Public Health/Local Public Health Institute interactive website. The guide can be found at: https://lphguide.mhoa.com/.