03/25/2022
MHOA Member Spotlight – Jennifer Tsoi
By Yashashree Marne and Liliana Torres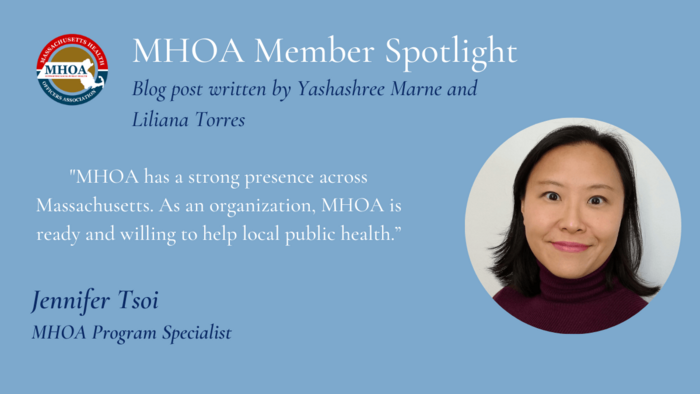 By Yashashree Marne and Liliana Torres
During the 2021 MHOA Annual Conference, I met Jennifer Tsoi, the Program Specialist at MHOA. This new role is responsible for the design, marketing, coordination, delivery, and evaluation of MHOA programs for local public health officials in Massachusetts. Additionally, Jennifer creates the MHOA newsletter, assists with the successful implementation of the Academic Public Health Corps (APHC); and liaises between MHOA, local boards of health, and the APHC.
Jennifer was born in Boston and raised in Malden, MA. Growing up, she was often the translator for family and friends of family that didn't speak English. She reminisced and told me that it was always a rewarding feeling knowing she was able to help others. This nurturing and caring side of her persisted over time, so she knew she wanted a career that was meaningful and devoted to serving others.
Jennifer's introduction to public health occurred during her undergraduate years at Stonehill College, where she initially wanted to be a social worker. Then she took a course in community health, which ended up being her first step into the public health field.
After receiving her bachelor's degree in 2001, Jennifer worked at the Massachusetts Department of Public Health (MDPH) for a total of five years. She started as Program Assistant at the Massachusetts Tobacco Control Program (MTCP), where she was first introduced to the work of local boards of health. She also worked as Finance Coordinator for MTCP and then as Program Coordinator in the Nutrition & Physical Activity Unit at MDPH until 2006. Next, she was the Administrative Coordinator at the Social and Behavioral Sciences department at the BU School of Public Health in 2007. Then she was the Program Manager for the Partnership for Effective Emergency Response from 2008-2010, Senior Program Manager for the Local Public Health Institute of Massachusetts from 2010 to 2014, and finally the Assistant Director of Practice Programs at Boston University's School of Public Health's Activist Lab from 2014 to 2016. There, her work was focused on workforce development for local public health and she oversaw the training development for three training centers that were grant-funded within the BU School of Public Health. When the COVID-19 pandemic began, Jennifer was staying at home to spend more time with her family. Now that she is back in the workforce, she stated that she's really excited to be doing her part to help during this pandemic. She also enjoys seeing familiar faces from her past, but she's also excited to meet many new ones!
Since Jennifer has become a vital member of the MHOA team, she has gotten first-hand experience seeing what MHOA does for health departments in Massachusetts. When asked about MHOA and their work, Jennifer stated that "MHOA has a strong presence across Massachusetts. As an organization, MHOA is ready and willing to help local public health". She adds that it is so important to note that MHOA hears the needs of local public health across every community in Massachusetts and looks to support their work whenever possible. Jennifer has noticed that the day-to-day work of local public health has a greater sense of urgency during these times. She believes this is reflective of the pandemic's impact on public health professionals and states that this pandemic has demonstrated why MHOA's work is so critical.
Working in public health has been an incredibly fulfilling journey to Jennifer. Her favorite part of working at MHOA is being surrounded by people that are enthusiastic about their jobs, especially through these challenging times. "They're just incredibly passionate and dedicated, so I draw a lot of motivation from watching and witnessing the good work that they do".
Jennifer is a self-motivated and detail-oriented person who has been persistent in achieving her goals in life. We are so excited to have her working at the MHOA!